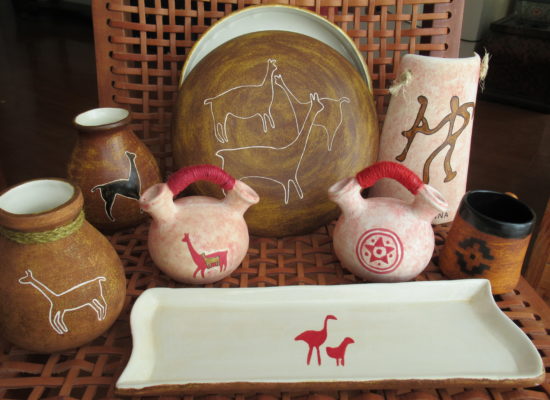 About us
As the name tells, KAUSARINA (to revive), is the intention to position in the market a different product to what is traditionally offered as handcraft. We want to trespass international borders to show the wealth of our patrimony, and bring back to the present times drawings of thousand of years that were left by our ancestors that we shape as utilitarian and decorative ceramic.
We have dedicated more than a decade to traverse, discover and document the treasures of the "norte grande" (big north) in Chile. This has lead us to find the huge cultural wealth that is hidden in the harsh and beautiful landscapes of the driest desert of the planet, where life can be found through rocks and hidden valleys.
Inspired by the ancient art, through reproductions of geoglyphs, petroglyps and pictograms, Kausarina aims to contribute to the promotion of the valuable and unknown patrimony left by the Andean cultures.
High quality ceramics, personalized and hand made are our seal, products with local identity, made with dedication and high respect for what was left by our ancestors, make everyone of our pieces unique, allowing everyone who gets them to take with them a small part of our history.